While relocations are usually a short, exciting time, for Lior Shalom and his family, an Asian country became their second home, and the place where they reinvented themselves
Team leader of System Engineering for the Autonomous Systems unit, C4I & Cyber Division | 45, lives in Zoran | Married + 3
Lior Shalom believes in leaping at opportunities. After several years at Elbit Systems, Lior agreed to relocate to Asia for what would turn out to be seven years, after which he returned and assumed his current position.
"There's nothing like distance from everything you know to broaden perspectives, and to gain the sense that life offers endless possibilities", he says.
Lior was born in Eilat and grew up with three siblings. When he was in 8th grade, aged 13, he began studying at the Boyar boarding school in Jerusalem. "Today, it's hard to imagine a 13-year-old kid away from his parents. But I was very independent from an early age and realized that life will be what I make of it".
Following school, Lior joined the Nahal Infantry Brigade and completed service as an intelligence officer. He met his wife Hagit during service. Though initially thinking of studying economics, after stumbled upon an ad for a software programming course, and was hooked, completing a BA in computer science, and subsequently an MBA.
With his studies complete, Lior briefly joined a small development company, but wanting to develop himself in other fields, he moved to Elbit Systems, starting as a programmer and rising to lead an Intelligence & Cyber team.
He had worked on several projects and when a new one for a foreign country arrived, he was tapped to be the development manager, he says. That led to the appointment overseas in Asia, to assist in integrating the new system.
"We arrived with two little kids and one on the way, so the beginning was pretty challenging. It feels like a parallel world, starting with basic things like going to the supermarket and not knowing what to buy. But relocation is an opportunity to do things differently, to hone your senses. You feel like you can make anything happen," he says.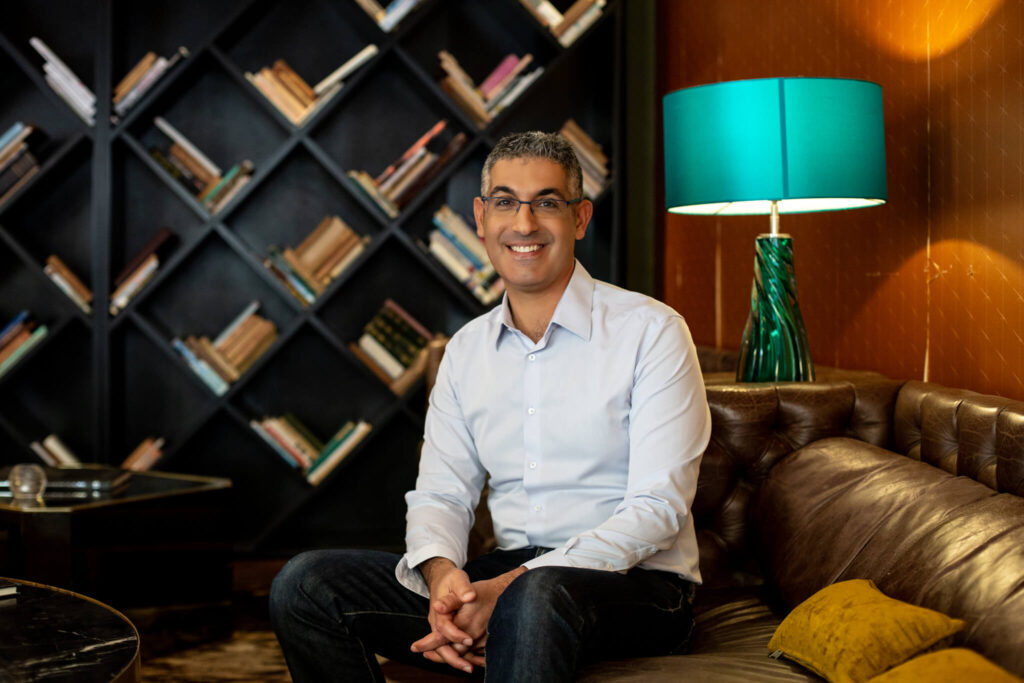 As the project manager, Lior led local engineering teams while also working with teams in Israel. "I learned a lot," he says, "including work with multiple teams and gaining understanding of the customer and its needs. we upgraded the system and considerably Increased our sales".
Yet after seven years Lior and Hagit felt it was time to go home. The children were growing up and needed stability and a more consistent relationship with the extended family. "It was a hard decision because it meant leaving a place where I was highly appreciated, parting from friends who had become family, and starting all over again," he says.
Upon his return a year and a half ago, Lior was named team leader of system engineering for the Autonomous Systems unit. "The unit's primary goal is to build an infrastructure for autonomous systems of any kind. We take ground and aerial platforms and make them independent. our aim is to obtain new tools and abilities in a fast-changing market," he explains.
In parallel with working at Elbit, Lior blogs and writes stories published on LinkedIn. "It started with posting technical articles when I researched cloud services (AWS). I figured that if I run into difficulties, there would be others like me. Since then, my articles had hundreds of thousands of views. I'm not always comfortable with the exposure, but I've gained managerial and human experience that I'm happy to share; and if I manage to provide value—it's worth everything".
"Relocation is an opportunity to do things differently, to hone your senses. You feel like you can make anything happen"